Revolver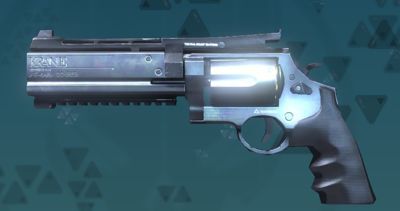 The Revolver is a secondary weapon which specialized for both far and close range combat. It has a moderate fire rate and high damage, but sacrifices the magazine size, limited to only carrying 6 shots at a time.
Because this weapon has great accuracy and a high rate of fire, it is easy to deal great damage from extended range when using a scope, and for spraying in close quarter combat.
---
In spite of the stated spread statistics, while stationary the first shot fired from a revolver will always be dead center; as a result the static crosshair makes it much easier to use.
The default statistics for the weapon goes as follows:
Standard Basic Classic

| | |
| --- | --- |
| DAMAGE: 125 | FIRERATE: 200 |
| AMMO: 6/24 | RELOAD: 2.37s |
| ZOOM: 1.30 | SCOPE IN: 0.22s |
| SPREAD-AIM: 0.92° | RECOIL: 12.91° |
| SPREAD-HIP: 2.29° | RANGE: 40/60 |
| SPREAD-MOVE: 4.53° | RUN: +0.15 |
---
Permanent: 6250 GP / 500[Zen
This item cannot be purchased using GP unless the character is level 5 or higher.
---
The Revolver can be modified with Scopes, Magazines (limited to changing from standard munitions to elemental rounds, i.e incendiary, explosive, toxic, and electo), and Camos.
---
This is a list of premades, both current and past.
Krane Rev.0 'Exploder'
Krane RiVAL 'All-Star'
---