RG057 Ghost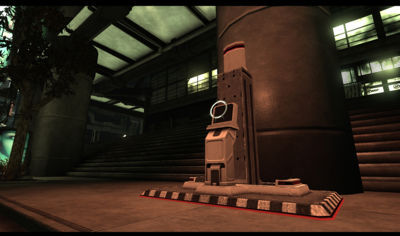 ---
The RG057 Ghost is a powerful man-carried Railgun purchased from the depot.
While lacking the armor and durability of the similar Hardsuit-mounted Railgun, the Ghost is a very powerful weapon for Agents, effective as an anti-Hardsuit and anti-personnel weapon.
At 750 CP, it is much cheaper, half the price of a Hardsuit, allowing it to be acquired quickly and easily early in most matches.
---
The Ghost operates in a similar fashion to the Hardsuit's Railgun, firing a high-velocity slug with near pinpoint accuracy. Any infantry in the shot's path are instantly killed, and can not be revived by their teammates, similar to being hit with explosives. As well, each shot deals 1000 damage to a Hardsuit, allowing it to deal anywhere from 1000 to 10,000 damage to an enemy Hardsuit if the shot strikes multiple sections or the weak point itself.
The main drawback to the Ghost is the price - not only is it one of the most expensive items to buy from a Depot, it is extremely expensive to purchase with GP and Zen compared to other Depot items, and only unlocks at Level 30. Once an agent has their hands on it, however, it has other drawbacks, such as low movement speed, a poor rate of fire, and a relatively slow reload speed. The railgun's accuracy also decays rapidly if fired while jumping, or fired as fast as possible.
While the high accuracy allows it to be used as a sniper rifle, the sight on it is entirely cosmetic and can not be used for more precise long-range shots. The projectile also isn't an instant hitscan shot like other weapons, and the slug has a physical shape. Trying to fire it through narrow spaces, or with "head-glitching" like one would with a Combat Rifle or Bolt Action Rifle will result in the shell hitting the cover in front of you instead.
Week: 2660 GP / 280 Zen
Permanent: 12500 GP / 1000 Zen
This item cannot be purchased using GP unless the character is level 30 or higher.