Light Pistol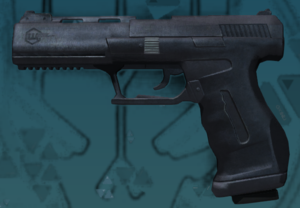 The Light Pistol is the default secondary Weapon for all players.
---
The Light Pistol is one of the default items permanently unlocked for all players regardless of Level. It will always be available as a fall back in the case of a player having no other permanent unlocks or current rentals.
As a secondary Weapon, its statistics compared to other secondaries are decidedly average, doing less damage than all other pistol class secondaries, and maintaining the high aimed and hipfire bullet spread characteristics of the weapon class. Despite this, it can be fired and reloaded very quickly and is useful in very close range fights where a player may not have sufficent time to reload their primary Weapon.
The statistics for the stock Light Pistol are as follows:
Standard Basic Classic

| | |
| --- | --- |
| DAMAGE: 40 | FIRERATE: 600 |
| AMMO: 12/48 | RELOAD: 1.67s |
| ZOOM: 1.30 | SCOPE IN: 0.22s |
| SPREAD-AIM: 1.06° | RECOIL: 2.89° |
| SPREAD-HIP: 2.65° | RANGE: 20/50 |
| SPREAD-MOVE: 3.51° | RUN: +0.50 |
---
As the Light Pistol is issued to all incoming Agents, it cannot be purchased with GP or Zen and is the permanent default secondary weapon.
---
This is a list of premades, both current and past.

Briar XS 'Gambit'
MMRS IS2 'Enforcer'
---
This pistol is exactly like the real life Smith & Wesson P22 which has a capacity of 10 rounds per magazine.
---